Visionary iGaming Live Casino Software
[vc_row][vc_column][vc_column_text]
Visionary iGaming Live Casino Software
[/vc_column_text][vc_column_text]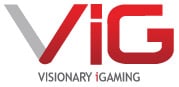 Visionary iGaming was founded in Costa Rica in 2008 by Martin Reiner and a couple of the senior management team of Vutetec, an online gaming development company.
They all left Vuetec, raised capital and started Visionary iGaming as they could see the potential of Live Casino and wanted to go in a different direction to the one Vuetec was taking.
Up to that point, live casino solutions were mainly voyeuristic, with no dealer and player interaction possible.
The ViG Management team saw an opportunity to bring more excitement to the Live Dealer experience by focusing on and nurturing the social elements of the live product.
Live games are more trustworthily than their RNG counterparts, so VIG wanted to create an environment where players are greeted by name when then join a table, play with dealers that know the games and interact with players in a community setting.
ViG built its Live dealer software platform in-house and from the ground up. They have development offices in Melbourne, Australia and San Jose, Costa Rica.
In 2010 they moved into a new 3-floor building where they built a state-of-the-art studio and house their Customer and IT Support teams.
ViG only uses authentic casino hardware – Cammegh digital roulette wheels, Shuffle Master iShoes, standard sized playing cards – the same cards as used in land-based casinos in Las Vegas. They do not use custom, oversized cards, with bar codes and grocery scanners. All of ViG's authentic casino hardware is recognisable to experience land based players.
Their software is time-tested over the last 9 years. It's been extremely reliable and they quote an uptime of ~99.89%.
Their game interfaces are all built in HTML5 and are optimised for both desktop and mobile devices such as tablets (iPads).

Live Roulette and Live Baccarat are available on Mobile and optimised for the iPad with Blackjack coming soon.

Unlike some Live Casino providers, VIG handles 80% of all customer queries directly. They employ friendly, helpful and English speaking Pit Bosses and Pit Boss Assistants. In the event they cannot resolve an issue on the casino floor, ViG has a B2B Customer Service escalation procedure whereby the player is provided with a ticket reference number the support department contacts the casino directly.
ViG currently employs (June 2017) over 120 people, deals to 25,000+ real money players each month, and their live tables see over €120M in wagers each month.
In May 2017 ViG completed the acquisition of its former competitor, Global Gaming Labs (GGL).
This has taken VIG's customer base from 40 Casinos to over 60.
I visited VIG in April 2017. Read my exclusive review where you'll see me being put through my paces on the Live Blackjack table.
So that's a bit of background but's what's really interesting are the live games they have.
Live Casino Games
Visionary iGaming Casinos get the options of 3 games, Live Blackjack, Live Roulette and Live Baccarat.
But there's a lot more to them than you first think.
The guys at VIG have a lot of experince in table games. All were players at one time, some professionally, so they know a bit about what a player is looking for.
Live Roulette
Roulette players get two versions.
The European version comes with a Single Zero and American Roulette with Double Zero.
Why'd you'd play American roulette is beyond me when you have the option of single zero roulette. The RTP for European Roulette is 97.30% for American Roulette is 94.7%.
Live Blackjack
The Visionary iGaming Blackjack is one of the best Live Blackjack games you'll find. The only other supplier that has rules as good is Ezugi.
They also have the unique Blackjack with Early Payout. This was developed by one of the founder members of VIG.
You get the option to cash out your hand before the game has completed for a sum calculated on your hand value and the dealers. It's owned by VIG so you'll only find it at one of
It's owned by VIG so you'll only find it at one of their casinos.
There are three versions of Blackjack.
Live Blackjack Early Payout™. The game is multiplayer, where the player hands can be played by an unlimited number of players. The player can opt to surrender their hand for a payout before the dealer completes their hand.
Classic 7 seat blackjack – Classic Vegas rules Blackjack with 7 playing positions at the table.
Blackjack HD – HD Version of the game where you play in full-screen mode with the dealer. This version has the Surrender option and also has 7 seats.
Side bets of Bet Behind, 21-3 (rummy) and Perfect pairs can be played alongside the main hand on all the games.
There's a more detailed review of the Visionary iGaming Live Blackjack here.
Live Baccarat
This game comes in two versions:
Standard Baccarat – Played to normal Baccarat Rules, but you're able to make additional side bets of Player/Banker Pairs and Player/Banker Dragon.
Super 6 Baccarat – has the additional Super 6 side bet.
Both versions come with a complete set of Baccarat Roadmaps.
[/vc_column_text][/vc_column][/vc_row][vc_row][vc_column][vc_column_text]
Visionary iGaming Images
The specified gallery id does not exist.
In the main, the dealers speak English and Spanish, but a casino taking a dedicated table can have dealers that speak whatever language they want.
Products
Visionary iGaming package their solutions in 3 ways.
Live Casino in a Box – This option allows customers to deliver access to a live casino through a PC terminal. It's primarily aimed at betting shops and the like where punters can be offered a live casino product alongside fruit machines and betting kiosks.
Live Turnkey Online Casino – allows the customer to launch their own live online casino brand quickly and easily. This live gaming solution is composed of ViG's live online casino games, online multi-currency payment processing and a comprehensive back-end management system.
Live Casino Game feed – allows the customer to add ViG's live online casino games to their existing gaming infrastructure.
Summary
The Visionary iGaming product is very good. They aim to keep the player experience fun and happy, which is a trend that more and more live casinos are adopting.
They offer free play, but you will have to register first at the casino first to get access to the play money.
This allows you to test out the games and become familiar with the interface before you deposit, which I personally think is a good selling point.
I only have one negative and that's the look of the playing interface. It looks a bit dated to me.
Even with the new HD interface, you can struggle to see the cards when they are dealt. I think that is more to do with the studio lighting than anything else, but it's something that they need to resolve.
You can find Visionary iGaming live casino software in use at the following casinos.
The Best Visionary iGaming Live Casinos
[casino_software_table file ="visionary"][/vc_column_text][/vc_column][/vc_row]